The Platform for Research on Instant Messaging Infrastructures (PRIMI) Project Series
Introduction
Instant messenger applications support informal and spontaneous communication between online users. Nearly everyone who has some computer experience has used some kind of instant messanger like the the well known AIM(TM), ICQ(TM), MSN(TM) or Yahoo(TM) messengers and knows their strenghts and weaknesses.
PRIMI is the top-level name for a
series of projects
aiming to create a research platform in the field of computer-supported cooperative work, esp. instant messaging (IM). It evolved from an initial student project named
PRIMI
(Project on Instant Messenger Infrastructures) in the summer term 2004. Central research issues on client and server side aspects are shown in Table 1.
| | | |
| --- | --- | --- |
| | Client side | Server side |
| Communication | Communication facilities for protocols like XMPP, ICQ, TOC etc. | Server side components for protocols like XMPP, ICQ, TOC etc. |
| Data handling | User interfaces, awareness displays and indicators, sensor integration | Data integration, event histories, heuristics and algorithms |
| Application integration | Integration of instant messaging functionality into other applications | Integration of other application and services into servers |
Table 1. Features of the PRIMI platform.
The platforms features are mostly realised as components, usually plugins (cf. Figure 1). They amend PRIMI's kernel with additional functionality.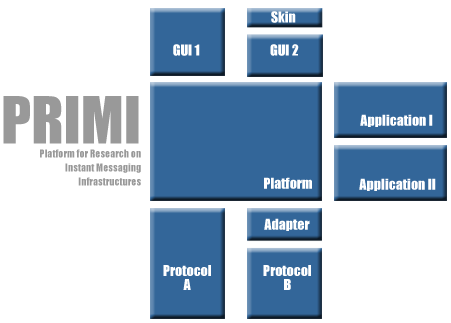 Figure 1. A platform overview. It depicts central components for communication, data handling, and application integration.
Projects
| | |
| --- | --- |
| re(soc)nize Interactive | In this project students explored machine learning approaches able to coherently and understandably explain their results in order to inform the design of better adaptive interfaces. (Winter term 2010/2011) ...more |
| re(soc)nize Stream | In this project students explored machine learning approaches that can be applied for stream-based learning for real-time user context detection. (Winter term 2010/2011) ...more |
| re(soc)nize Experience | In this project students developed and implemented the res(soc)nize Active software. This software is able to actively learn different classification problems based on sensor data. In order to achieve this, the software uses an Experience Sampling Method approach to collect user generated labels to train a classifier. (Summer term 2010) ...more |
| PRIMI Advanced Sensor Suite | In this project students create an environment that provides concepts for the permanent capturing of user data in order to adapt environments to the users. PRIMI Advanced Sensor Suite allows the user to capture data from hard and software sensors as a background task of the operating system. This data can help to infer context information. (Summer term 2009) ...more |
| PRIMI Eval Bot | In this project we develop and implement new means for automating the evaluation of instant messaging via bots (Winter term 2008/2009) ...more |
| PRIMI Unite | In this projects we developed new concepts for logins and shared logins, and implemented them in an instant messaging system (Summer term 2008) ...more |
| PRIMI LocaFaces | PRIMILocaFaces is a project that built up on the insights derived from the previous projects PRIMIFacesLift and PRIMILocaRhythms in the field of privacy and awareness management. The further development stressed on the integration of the concepts of both projects (Winter term 2007/2008) ...more |
| PRIMILocaRhythms | As users more and more communicate using mobile devices and different computers in different networks we are able to sense, record and analyse the spatio-temporal rhythms of those nomadic ...(Summer term 2007) ...more |
| PRIMIFacesLift | In PRIMIFaces the research platform for instant messaging PRIMI series has been extended with a concept to enable the selective disclosure of personal and context-related information based on different levels of trust. (Summer term 2007) ...more |
| PRIMIMine | Instant messaging systems allow their users to log in, set their availability status and to communicate with others. In this process a lot of data about the users activities and availability accumulate. In today's systems this data stays widely unused (Winter term 2006/2007) ...more |
| PRIMI-AV | The PRIMI Platform was developed into many directions in the passed terms. Therefore the kernel was extended and a number of interfaces and additional components created (Summer term 2006) ...more |
| PRIMI POM | Typically data is stored persistently in the digital world, for instance in the World Wide Web. However, it still can be retrieved years after (Winter term 2005/2006) ...more |
| PRIMIPatterns | Along their lifecycle teams and work groups run through several stages starting from their forming to their dissolution (Winter term 2005/2006) ...more |
| PRIMIFaces | PRIMIFaces is the third project of the (Summer term 2005) PRIMI series that addresses the selective disclosure of personal and context-related information in a client-side approach ...more |
| PRIMI II | The PRIMIBase project is to deliver a platform as a basis providing central services needed in future projects. These include a plugin API (for communication protocols and user interfaces) as well as logging and awareness facilities (Winter term 2004/2005) ...more |
| PRIMI I | The initial student project on instant messenger infrastructures. Written in the Java programming language und based on the Java binding of the JXTA protocol family (Summer term 2004) ...more |
People
Tom Gross (Supervisor)
Mirko Fetter (Supervisor)
Thilo Paul-Stueve (Supervisor)
Alexander Blazic (Former Supervisor)
Tareg Egla (Former Supervisor)
Christoph Oemig (Former Supervisor)
Created by: admin last modification: Friday 28 of January, 2011 [17:51:07 UTC] by max