The research at the Cooperative Media Laboratory is based on a
human-centred computing
perspective, which aims to develop
technological concepts and systems
based on an
understanding of how people
interact with and communicate through computing technology.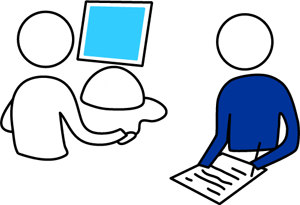 It departs from an understanding of human, social, and cultural issues in order to make technology
useful and usable
. The primary focus of attention is thereby on human activities in context. From this perspective concepts and systems are designed, developed, and evaluated for working, learning, and social interaction.
It is rooted in the research fields of Computer - Supported Cooperative Work (
CSCW
), Human - Computer Interaction (
HCI
), and Ubiquitous Computing (
UbiComp
).
Latest News
more details
Project TransKoop (20/01/2010): We completed TransKoop Software Suite TransWerk Version 1.0. ... more
Project Reco (03/01/2011): Christoph Beckmann and Maximilian Schirmer started the final implementation of the group recommender system. ... more
ACM CSCW Conference (23/11/2010): CML has 2 publications at ACM CSCW 2011, we are looking forward to present our approach at the ACM CSCW 2011 conference in China. ... more
Project TransKoop (03/12/2010): Maxi Hucke finished the user study of the instant messaging application TransKom, which was conducted in the demo at the KinderMedienZentrum Erfurt ... more
World Usability Day (11/11/2010): The CML again takes actively part in the World Usability Day opening its doors on 11 November 2010, showing interactive demos of TransKoop and Reco ... more
CML Open House @ZUR150 (01/10/2010): Some impressions ... more
New member (15/08/2010): Dennis Braunsdorf joined the CML team.
Outstanding Paper Award (02/08/2010): Maximilian Schirmer and Tom Gross received the Outstanding Paper Award at the IADIS International Conference Collaborative Technologies 2010 in Freiburg ... more
Ph.D. Workshop 2010 (21/06/2010): Some impressions from our Ph.D. workshop ... more
New members (01/04/2010): Christoph Beckmann, Ferdinand Kastl, and Maximilian Schirmer joined the CML team.
OpenLab Night 2010 (02/02/2010): Some impressions ... more
Created by: system last modification: Friday 28 of January, 2011 [18:43:25 UTC] by beckmann