Bamberg


The city of Bamberg is home of one of Europeans largest fully preserved historic old town centres. The medieval castle, the baroque monastery, the Romanesque cathedral with the famous Bamberg Horseman statue, the old bridge town hall built in the middle of the Regnitz river and surrounded by medieval and renaissance buildings, have been the scenery for many films including the 2011 Hollywood blockbuster movie Three Musketeers. The UNESCO World Cultural Heritage city is built on seven hills (like Rome), with the older inner city nestled on an island in the middle of the river Regnitz. Together this forms Germany's largest UNESCO World Cultural Heritage site - third largest in Europe.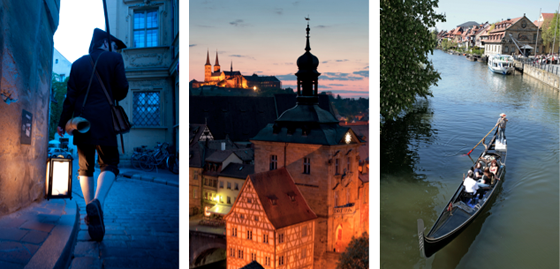 Bamberg is a safe, clean, and green city where everything lies in walking distance (there is a good network of public transport, esp. busses, if needed). September in Bamberg has mild temperatures (an average of 15 C / 59 F) and stable weather conditions (the month with the least number of rain days per year).

Bamberg and its picturesque surrounding region the Franconian Switzerland have the world largest brewery density according to the Guinness Book of World Records. In this region of culinary delights hundreds of small breweries, beer gardens, and restaurants welcome guests with friendliness to enjoy the multifarious specialities of the region. With a variety of small museums such as the Diocesan Museum with Germanys greatest collection of medieval church vestments, the Bamberg Symphony Orchestra an orchestra of world fame for their Mahler interpretations, and the German basketball champion Brose Baskets, Bamberg offers diverse possibilities for a cultural program.
Bamberg is in the heart of the Nuremberg Metropolitan Region with numerous sights from the Germanic National Museum to the Bayreuth Richard-Wagner Festival Opera house, which can be easily reached by public transport.
A small selection of links to the many museums and parks, castles and historical buildings, and showplaces, which are worth a visit during your stay in Bamberg: