Industrial Program
INTERACT 2015 offers interesting insights into the industry with its Industrial Program. This foremost includes a keynote by Kevin Dame, a panel of UX researchers at leading company's and several Organsiational Overviews.
Industry Keynote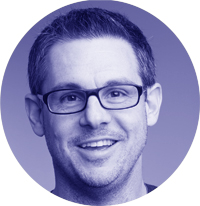 Kevin Dame
17 September 2015 | 9:30 - 10:30 | Room: K6/7
Visioning and Culture Change at YouTube
In this talk, Kevin will give audience members a unique, behind-the-scenes glimpse into organizational change within Google. He'll talk about how he founded and grew the Visioning Team at YouTube and helped transform YouTube's culture around product innovation, collaboration, and strategic thinking. Touching on the conference themes of Connection, Tradition and Innovation, Kevin's story focuses on the challenges of innovating in a strong culture with many traditions and well-established norms, and how he helped connect YouTubers to their users but creating stronger connections between YouTubers.
Biography
Kevin has over 20 years of design strategy and innovation experience. He's led strategic vision setting programs for a wide range of Fortune 500 companies and has launched many successful new products in his career. Leveraging his diverse background as an engineer, marketer, and IDEO designer, Kevin founded and leads the Visioning Team at YouTube which helps product teams identify opportunities and craft a clear vision for their product.
Industry Panel
17 September 2015 | 11:00 - 12:30 | Room: K6/7
What's it Really Like Working in Industry? A Day in the Life of Industry Researchers
Organsiational Overviews
16 September 2015 | 16:00 - 17:30 | Room: K8
Usability Testing Practise in MIMOS Usability Lab
Contextual Interaction Design Research: Enabling HCI
Organisational Overview: Institute for Design and Assessment of Technology, Vienna University of Technology (TU Wien)
(Session:
OO
)
Technology Experience Research: A Framework for Experience Oriented Technology Development